VETS OF THE GAME 7 V 7 COED "DRAFT" Tournament Flag Football (Turf) · Co-Ed Intermediate
MonTueWedThuFriSatSun 8:00am to 8:00pm
Free Agent Fees

Regular

$40.00

+ $2.99 Processing Fee
Join 5 Star Youth Alliance Inc. for our 7 v 7 COED "DRAFT" Tournament. We are giving our Vets a chance to shine among their peers.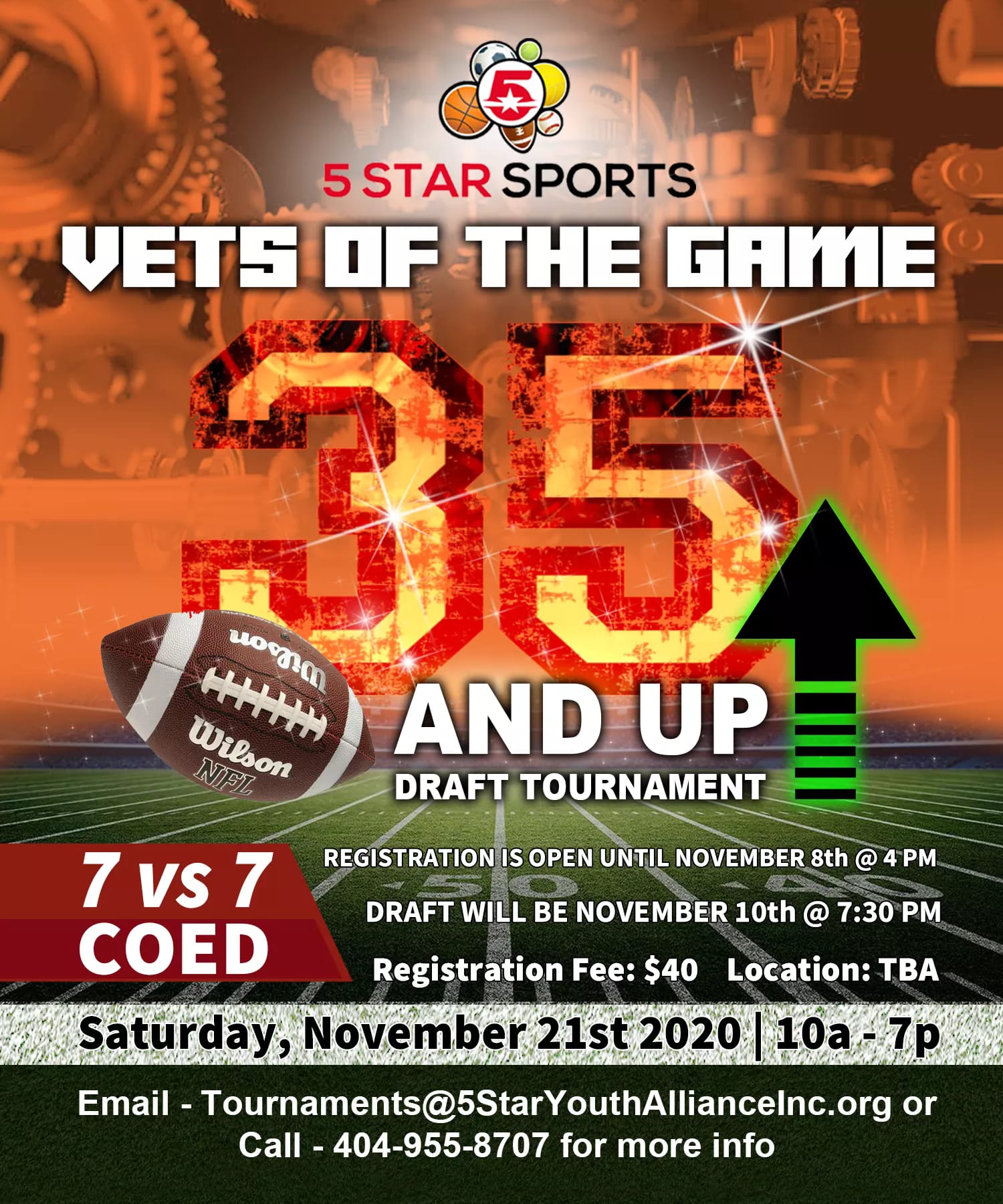 During this draft stylet tournament, ALL PARTICIPANT UST BE 35 years old.
How the tournament will work:


Style: This tournament style is: 7 vs 7 COED. (5yrd IMMEDIATE Rush ) (5 Men, 2 Women)

(NOTE: When the play is inside the 5-yard line, the rusher will start from the goal line)
11 Player Roster (7 Men - 4 Women)
REGISTRATION:

REGISTRATION IS OPEN UNTIL NOVEMBER 8th @ 4 PM

DRAFT WILL BE NOVEMBER 10th @ 7:30 PM
Rules:
Notes the following Rules:
1. Quarterbacks are ALLOWED to Run ANYTIME.
2. 5 yard immediate Rush 1 Yard Off the line Line of Scrimmage (Except when inside the ball is inside the 5yd line. The rush will start from the goal line)
3. We are Kicking Field Goals or Kicking for Extra Points is the team chooses
4. Kick-offs ONLY at the beginning of each half
5. Kick Offs & Punts are LIVE and CAN be returned
6. RUNNING CLOCK IN POOL PLAY THE ENTIRE GAME
We reserve the right to modify rules to fit our needs.

PLEASE NOTE..THERE ARE NO REFUNDS ONCE YOUR ARE DRAFTED UNDER ANY CIRCUMSTANCES!!.
Contact Info: James
Tournaments@5StarYouthAllianceInc.org
404-955-8707